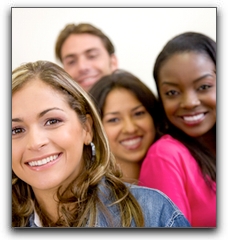 Hello friends of Century City Aesthetic Dentistry! If you haven't visited our blog in a while, we welcome you. It has been a great month at our state-of-the-art Los Angeles cosmetic dentistry practice.
We continue to achieve fantastic results with our precision smile makeovers.
If you have never seen our photo gallery of actual Los Angeles implant dentistry smile makeover patients, you are probably not aware of the limitless possibilities. There is virtually no dental problem that can't be improved with modern cosmetic dentistry at Century City Aesthetic Dentistry.
Dr. Bill Dorfman has been skillfully using the tools of cosmetic dentistry: veneers, porcelain crowns, teeth whitening, dental bridges, dental implants, inlays and onlays, and tooth bonding to create unbelievably beautiful smiles. If you are not happy with your smile, call us at 310-277-5678 today to schedule a smile design consultation. We offer sedation dentistry for patients who are anxious when receiving dental treatments. We even treat bad breath!
The vast majority of Los Angeles smile makeover patients have absolutely no regrets about their investment in a stunning smile. There is no physical feature as eye-catching as an attractive smile. When your smile is phenomenal, you smile all the time!
Do you need a reason to smile? Consider a smile makeover from one of the top cosmetic dentists in Los Angeles. See https://www.billdorfmandds.com// for more information and photos. We look forward to making your smile the best it can be!