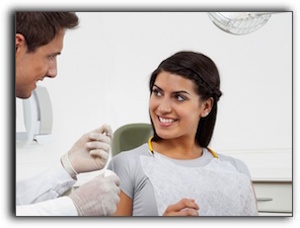 Hello Los Angeles! My name is Dr. Bill Dorfman. My dental practice, Century City Aesthetic Dentistry, has been serving the Los Angeles area since 1985.
If you have questions about oral health, cosmetic dentistry, preventative dentistry, children's dental sealants, tooth implants, oral sedation, safe teeth whitening, or invisible braces, come to Century City Aesthetic Dentistry for answers.
My professional and aware staff has helped me create an atmosphere of active listening. We enjoy getting to know our patients and determining each patient's unique needs. We want to understand your dental goals and challenges and help you understand the hows and whys of recommended treatment.
We are currently accepting new patients. If you are seeking a friendly children's dentist or cosmetic dentist in Los Angeles, we invite you to come in and meet our professional and aware team.
Many of our new dental patients ask us about cosmetic dentistry procedures such as teeth whitening, smile makeovers and dental implants. We would love to communicate with you about these procedures as well as our other dental services.
If you have small children, it is important for you to make decisions about protective sealants and fluoride supplements. If you have older children, it is useful to discuss braces, sports mouthguards, and cavities prevention. If you are not happy with your smile, we would like to introduce you to the latest in cosmetic dentistry. If you are missing teeth, dental implants may be the best solution. If you have a family member with a chronic illness, we can counsel you about the impact their condition has on oral health. Oral cancer screenings are essential for patients of all ages.
Thank you for visiting our dental blog and taking the time to learn more about Century City Aesthetic Dentistry. Call today to schedule a consultation.
You deserve a billion dollar smile