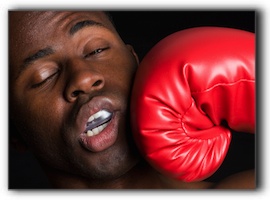 It is estimated that over 5 million teeth are knocked out yearly and a significant portion of these dental traumas occur on the playing field or court. Each dislodged tooth requires several trips to the dentist and hundreds of dollars in restoration expenses. Not to mention pain!
I'm Dr. Bill Dorfman of Century City Aesthetic Dentistry and I want to raise awareness of the importance of athletic mouth protection. I advise my patients to think of mouthguards as a critical part of their protective gear. Most Los Angeles parents require their children to wear helmets when biking and shin guards while playing soccer. I encourage parents to emphasize the importance of mouth protection from your child's very first 5 year-old T-ball game. And we all need to practice what we preach.
You are probably aware of the main types of mouthguards: ready-to-wear, boil and bite, and custom-fitted. The stock mouth protectors are pre-formed but are definitely not one-size-fits all and probably provide the least amount of protection. (Though they are better than nothing.)
You can find boil and bite mouth protectors at Los Angeles sporting goods stores. They are to be softened in water and then formed to the mouth (follow the manufacturer's instructions).
Some Los Angeles dentists offer custom sports mouthguards that provide the highest level of protection and comfort. Mouth protectors that are comfortable are more likely to be worn by kids who complain about wearing a mouthguard. Ask your dentist about custom mouthguards.
Mouth protection is extremely essential for Los Angeles patients with braces or fixed bridge work. Some Los Angeles orthodontists recommend mouth protectors for lower teeth as well.

If you or your child has a sports-related dental emergency, call my Los Angeles office immediately at 310-277-5678. I will do everything in my power to save the tooth but every second counts. Make sure you save all pieces of the tooth and bring them with you.
Contact Dr. Bill Dorfman, DDS – Century City Aesthetic Dentistry:
Location (Tap to open in Google Maps):